Guess what?! Farm Credit of Southern Colorado won The Gazette's Best Workplaces 2022 award again!
THANK YOU FCSC EMPLOYEES!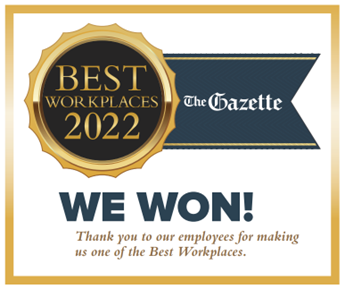 The Gazette's Best Workplaces 2022 is a big deal for all of us here at FCSC. We can't thank our cooperative family enough for the kind, honest words of our organization and how amazing it truly is to work here. Our employees were the ones who voted and made this happen for yet another year, so you all are the ones we're most grateful for! It's a great accomplishment for the company, and a testament to our commitment to our employees because each and every one of you come first in our hearts. We are proud to have all of you in our family!
We are beyond proud to have been, once again, recognized as one of the best workplaces in the country. We are fully committed to providing our employees with a great work environment, a happy work life balance, a positive and supportive atmosphere, and this award reflects that. We always want our family members to feel valued and appreciated, and FCSC is constantly striving to improve the workplace every single day. Farm Credit of Southern Colorado is sincerely honored!
This award is a huge validation of FCSC's efforts, and it will only motivate us to continue providing our employees with the best possible experience. Here's to another fantastic year in Colorado!
Thank you to our employees for making us one of Gazette's Best Workplaces of 2022!
This blog post is for informational purposes only and should not be considered financial, legal, or investment advice. Any information contained in this post is subject to change without notice and should not be relied upon without seeking the advice of a qualified professional. The views and opinions expressed in this post are those of the author and do not necessarily reflect the official policy or position of our Association. The author and Association are not responsible for any errors or omissions and are not liable for any losses or damages arising from the use of the information contained in this post.