Farm Credit of Southern Colorado is honored to announce that Jeremy Anderson, a former area banker and current CEO of the organization, is among a select group of six individuals nationwide to receive the esteemed Circle of Excellence award for 2022. This national recognition is given to those who have made substantial strides in the growth and success of their respective organizations.
"Jeremy Anderson's exceptional leadership and unwavering commitment to building a winning culture have been instrumental in propelling the organization's growth. His positive influence over Farm Credit of Southern Colorado, as well as his leadership within the Farm Credit System as a whole, make him highly deserving of the Accelerator of the Year award," noted Stacy K. Loutzenhiser, Chief Business Development Officer, Farm Credit of Southern Colorado.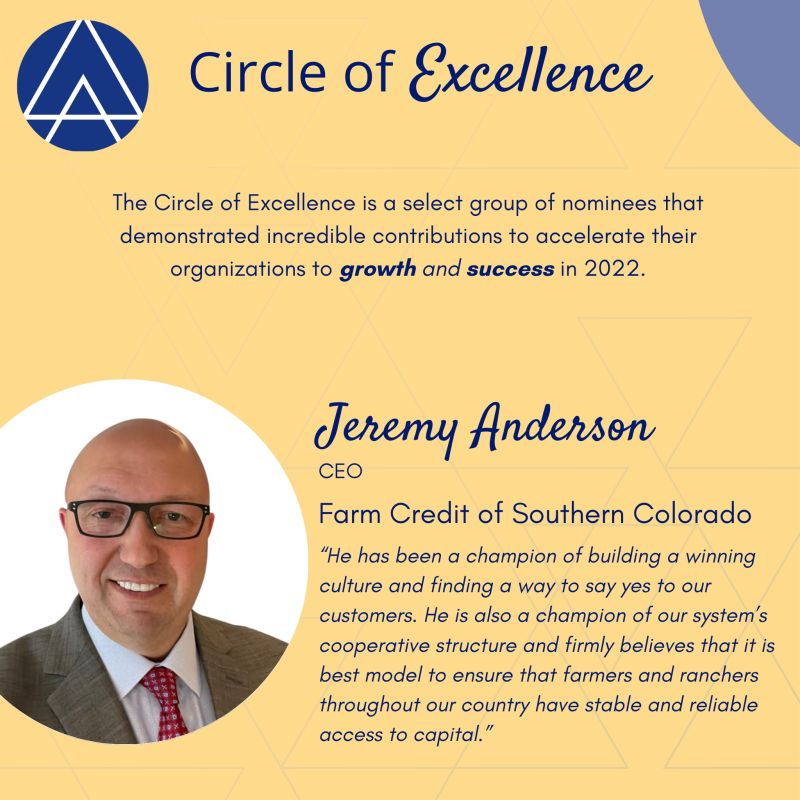 "The financial results at Southern Colorado since Jeremy's arrival speak for themselves," states Todd Van Hoose, President and Chief Executive Officer of Farm Credit Council. Under Anderson's guidance, the association has achieved impressive milestones, including increased earnings, expanded lending to farmers and ranchers, and improved credit quality. These accomplishments have been achieved in a highly competitive market and amidst challenging drought conditions.
"Jeremy Anderson's past experience in production agriculture positions him as a unique and unparalleled spokesperson for the Association and the broader Farm Credit System. His background provides him with a special understanding of and connection with our member shareholders. He goes above and beyond to ensure that Farm Credit of Southern Colorado remains a steadfast, long-term partner for its members' success," highlighted Whitney Hansen, Board Chair of Farm Credit of Southern Colorado.
The Circle of Excellence, a national award, is a symbol of the extraordinary achievements and exceptional efforts of its recipients. This honor, decided by peer nominations, serves as a testament to these individuals' steadfast commitment and innovative approaches. They have set new industry benchmarks and made significant impacts on the agricultural sector and rural communities.
Farm Credit of Southern Colorado extends heartfelt congratulations to former area banker, Jeremy Anderson, and the five other remarkable recipients of the Circle of Excellence awards for their impressive contributions. Their achievements continue to inspire the entire organization and the agricultural industry at large.
This blog post is for informational purposes only and should not be considered financial, legal, or investment advice. Any information contained in this post is subject to change without notice and should not be relied upon without seeking the advice of a qualified professional. The views and opinions expressed in this post are those of the author and do not necessarily reflect the official policy or position of our Association. The author and Association are not responsible for any errors or omissions and are not liable for any losses or damages arising from the use of the information contained in this post.