A legacy built on pure dedication and service to others deserves recognition that echoes the impact and influence this person created forever. Today, we stand with immense gratitude and appreciation as we celebrate Gary Pautler's remarkable 27 years of service on the Farm Credit of Southern Colorado Board. Gary's unwavering commitment to our local cooperative has left an undeniable mark on our organization, transforming it into a true inspiration of what community support and empowerment of others looks like. Gary is retiring with a large family of farmers, ranchers, coworkers, cooperative members, and many others alike who will never forget the impact he had here at FCSC.
Gary's journey with us was one filled with brilliance. His steadfast dedication has not only shaped our cooperative to what you see today but also paved the way for countless aspiring minds in our organization as well. His relentless pursuit of excellence has not gone unnoticed. In recognition of his outstanding contributions, we are thrilled to announce a tribute that resonates with the magnitude of his service – The Gary Pautler Scholarship.
Introducing the Gary Pautler Scholarship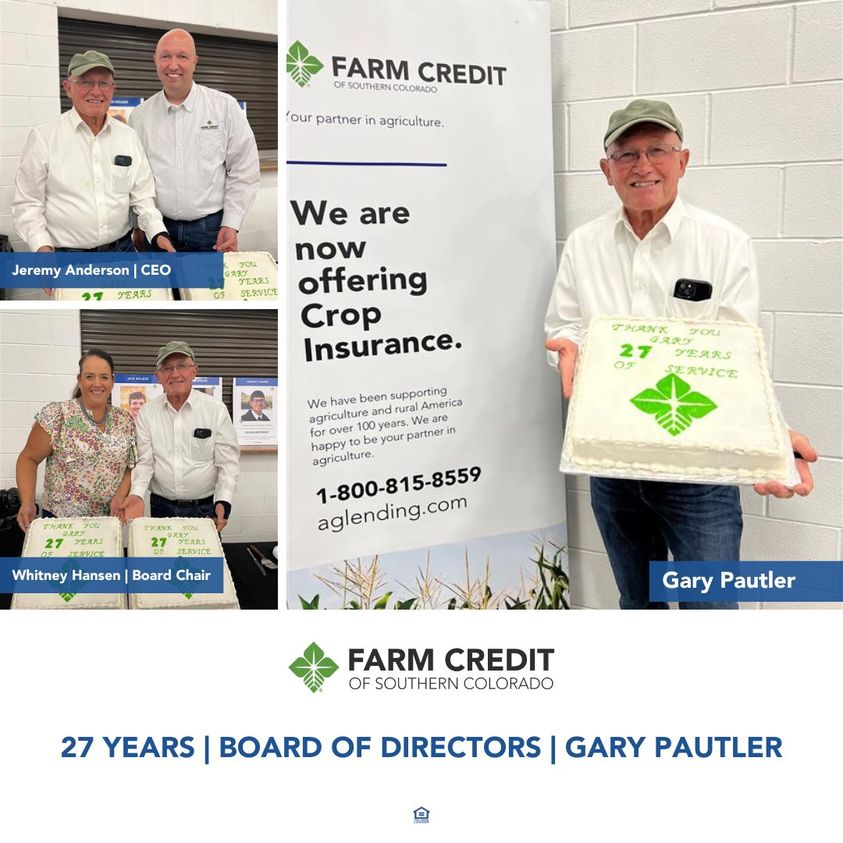 Starting for this upcoming year, this newly titled scholarship will become a symbol of the profound impact Gary has had on all of us here at Farm Credit of Southern Colorado and the broader local Colorado community. The Gary Pautler Scholarship, a $2,500 reward, will be awarded annually to our most exceptional recipient who much be a student who fully embodies the principles of dedication, service, and a commitment to both their own and their community's educational advancement in agriculture.
With Gary's scholarship, we honor his legacy by continuing his passion for fostering educational opportunities and expanding the future of agriculture. It stands as a testament to his belief in the transformative power of education, and how it can propel local individuals and communities towards a brighter future for the world of farming and ranching. Just as Gary's influence has been expansive and powerful, we aspire for the Gary Pautler Scholarship to empower and uplift our local deserving students for generations to come.
As we embark on this new chapter, we invite you to join us in celebrating Gary's legacy and the inauguration of the Gary Pautler Scholarship at FCSC. Together, we can carry forward the spirit of service and excellence he has exemplified throughout his journey with Farm Credit of Southern Colorado. Let's all raise a glass and cheers 27 years of astonishing personal and professional dedication, and to the bright futures that the Gary Pautler Scholarship will illuminate in 2024 and beyond.
THANK YOU FOR EVERYTHING GARY PAUTLER AND BEST OF LUCK WITH YOUR RETIREMENT ADVENTURES!
This blog post is for informational purposes only and should not be considered financial, legal, or investment advice. Any information contained in this post is subject to change without notice and should not be relied upon without seeking the advice of a qualified professional. The views and opinions expressed in this post are those of the author and do not necessarily reflect the official policy or position of our Association. The author and Association are not responsible for any errors or omissions and are not liable for any losses or damages arising from the use of the information contained in this post.