Hey there, photography enthusiasts! We are thrilled to announce another year of our highly anticipated Farm Credit of Southern 2024 Calendar Photo Contest! It's time again to dust off your cameras, release your creativity, and start capturing the essence of agriculture through your own lens. Get ready to illustrate your talent and possibly win exciting cash prizes!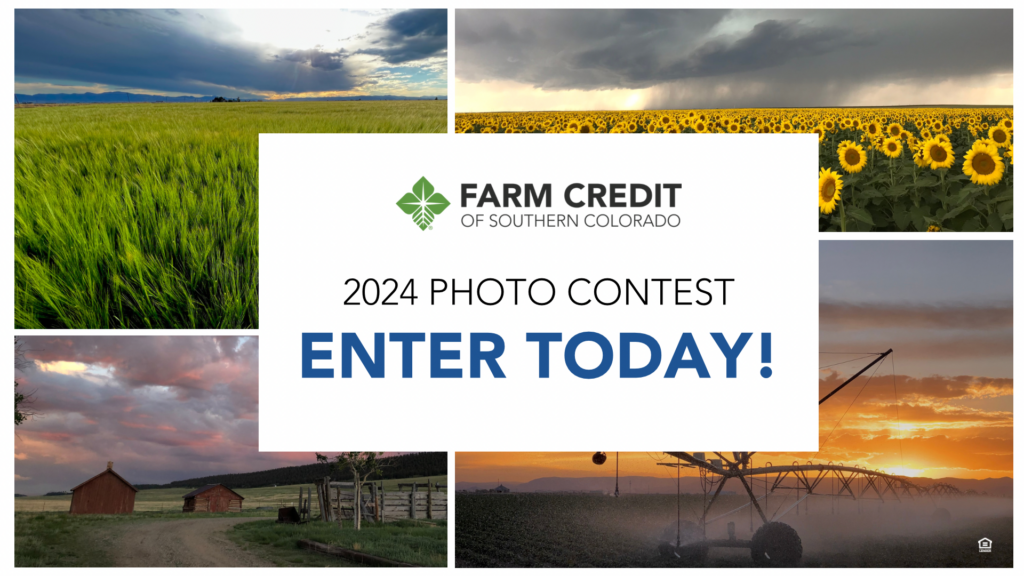 At FCSC, we know how beautiful agriculture is and we understand how import it is in our own lives, so let's share that experience with others. Plus, why not help our cooperative create next year's company calendar in the meantime! That's precisely why we're calling all you passionate photographers to participate in this year's annual calendar photo contest.
We are seeking awe-inspiring images that uncover the essence of farming and ranching in Colorado. Whether it's a scenic landscape of our stunning mountains, a close-up of a farmer's weathered hands, or a snapshot of a calf with it's mom, we want to see all your photos that depict the spirit of farming and rural life.
The FCSC 2024 Calendar Photo Contest is a fantastic opportunity to showcase your talent, spend time outside to capture an AG moment, and gain recognition within our community by being featured in next year's calendar. Oh yeah, and also have a chance to win some cash prizes as well! Just like last year, our top three winners will receive generous cash rewards, and their winning photographs will be front and center in our calendar. Have fun with photography with the chance to win free money and have your shots displayed is a win, win, win situation all around!
So, how can you enter this exciting contest? It's simple! Follow these steps:
Capture: Take your best shot(s) that reflect the beauty and significance of agriculture.
Select: Choose your most compelling photograph(s) that truly represent the theme.
Submit: Visit our website and fill out the submission form. Make sure to attach your photograph(s) in high resolution.

Submission Deadline: Thursday, August 31st at 11:59PM

Share: Spread the word about the contest on social media using our official hashtag #FCSC2024CalendarContest.
Engage: Follow our social media pages for updates, inspiration, and to see the incredible work of fellow participants.
The deadline for submissions is fast approaching, midnight on August 31st, so don't miss out on this incredible opportunity. Show the world your unique perspective on agriculture and join us in celebrating the beauty of the farming world in Colorado.
Each photograph has the power to tell a story and ignite emotions. We can't wait to see your captivating entries and be inspired by your creativity. Good luck, shutterbugs! Let's make the FCSC 2024 Calendar a true celebration of agriculture through the lens of our own cooperative members and talented photographers like you!
GOOD LUCK EVERYONE!
This blog post is for informational purposes only and should not be considered financial, legal, or investment advice. Any information contained in this post is subject to change without notice and should not be relied upon without seeking the advice of a qualified professional. The views and opinions expressed in this post are those of the author and do not necessarily reflect the official policy or position of our Association. The author and Association are not responsible for any errors or omissions and are not liable for any losses or damages arising from the use of the information contained in this post.