FARM CREDIT OF SOUTHERN COLORADO DONATES VIDEOCONFERENCING EQUIPMENT TO LINCOLN COMMUNITY HOSPITAL
Farm Credit of Southern Colorado recently donated a videoconferencing system to Lincoln Community Hospital, located in Hugo, Colo.
Farm Credit first started using videoconferencing technology about seven years ago.  Their original LifeSize equipment only allowed connections between their branch offices and the central office.  Videoconferencing technology has advanced greatly over the years to include cloud-based solutions that facilitate communication between any device that has an internet connection and a camera, including mobile devices.  By upgrading their equipment it allows Farm Credit associates to utilize the LifeSize Cloud to have video meetings with co-workers, customers, vendors, the Board of Directors, and other stakeholders.  All employees are setup with the LifeSize Cloud at their desktop and they are using it daily for individual conferences and team meetings.
"This technology reduces travel expense and makes efficient use of our associate's time while providing that face-to-face connection that is invaluable," said Ellen Polyard, Farm Credit of Southern Colorado VP Technology.  "Because the original equipment was still in good working condition we decided to donate it to a worthwhile organization that would benefit from it.  Associates and Directors submitted names of potential organizations and the Board of Directors selected Lincoln Community Hospital as the recipient."
"I want to thank Farm Credit of Southern Colorado for such a generous donation," said Michael Gaskins, Lincoln Community Hospital IT Director. "As you may have seen in the news recently, rural hospitals in Colorado are facing greater financial hardships than before due to the recent plan to cut down or eliminate Provider Reimbursements to hospitals. This affects hospitals like Lincoln Community Hospital and Care Center especially hard. It basically eliminates our ability to grow our technology based services like the equipment so generously donated by Farm Credit."
Lincoln Community Hospital plans to install the video conferencing equipment in their Limon and Flagler remote locations to improve communication between the facilities and to have the ability to add Telehealth capabilities to their facilities. They are exploring the possibility of using some of the equipment at other facilities so that they may combine individual specialties to serve an even greater area.
"Serving the rural areas of Colorado presents unique challenges for Lincoln Community Hospital and Care Center," said Gaskins. "By having the ability to video conference for improved communication and Telehealth will afford us the ability to better serve the people and travelers of Eastern Colorado."
"At Farm Credit of Southern Colorado we have a strong commitment to supporting the communities in which we do business," said Alan Woodard, Farm Credit of Southern Colorado President and CEO. "We know how important the rural hospitals are to these communities and are pleased to be able to help improve Lincoln Community Hospital's communication capabilities."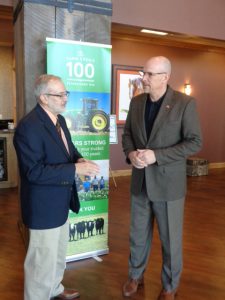 Michael Gaskins, Lincoln Community Hospital IT Director and Alan Woodard, Farm Credit of Southern Colorado President and CEO, visit about challenges facing rural Colorado.