Burlington, Colo. – Annie's Project is a series of six educational sessions designed to strengthen women's roles in the modern farm enterprise. Annie's Projects foster problem solving, record keeping, and decision-making skills in farm women.
Farm Credit of Southern Colorado is pleased to have sponsored a recent six-week series held at its Burlington Branch location. Twenty-one women from around the Burlington area completed the class that concluded on March 5.
"We here at Farm Credit are so happy that we were able to help bring this program to local women involved in production agriculture," said Emily Golding, VP Marketing, Farm Credit of Southern Colorado. "It's a great thing to see women so excited to enhance their management skills and learn something new to take back to the table when decisions are being made about their operations."
The six educational sessions of the course include topics from the five risk areas. Topics include:
Financial Risk – women and money, basic financial documentation, interpreting financial statements, enterprise analysis, USDA programs, and recording keeping systems.
Human Resource Risk – communication and management styles, insurance needs, and succession planning. Legal Risk – estate planning, farmland leasing, and employee management.
Market Risk – access to market information and grain or livestock marketing.
Production Risk – Natural Resource Conservation Service, web soil survey and crop insurance.
These weekly sessions were made possible by community leaders donating their time and knowledge to come in and talk to the group about their area of expertise. These speakers included: Merle Rhoades; Jenna Keller, Keller Law; Dr. Brent Young, CSU Extension; Kristi Gaye and Krysten Strong, NRCS; Barb Erlemann, Mindy Nee and Savannah Leiker, FSA; Elke Cooper, Reents Agency; Nicole Hornung, Deb Smith and Marlinda Franz, Stratton Equity Coop; Andrea Louthan; Angela Rogers, Farm Credit of Southern Colorado; Kari Reents, Eastern Colorado Bank; Ken Viken, State Farm Insurance; Christa Gilbert, On Target Ag Solutions/AgEnsure; and Christine Schinzel, Lincoln County Extension. Schinzel not only led several of the class discussions, she was also the trained Annie's Project facilitator, which is required to hold a class.
"Without our wonderful group of experts volunteering their time to come and speak to our group, this project would not have been possible," said Golding. "Thank you for helping to bring Annie's Project to the women in our area."
Annie's Projects are limited to around 20 participants. This class reached capacity quickly and had a waiting list of about 10 additional ladies. With that, and the additional interest that has sparked, there may potentially be additional Annie's Projects offered in the area later this year. If you are interested in possibly attending a future class, visit www.anniesproject.org or email Emily Golding at [email protected]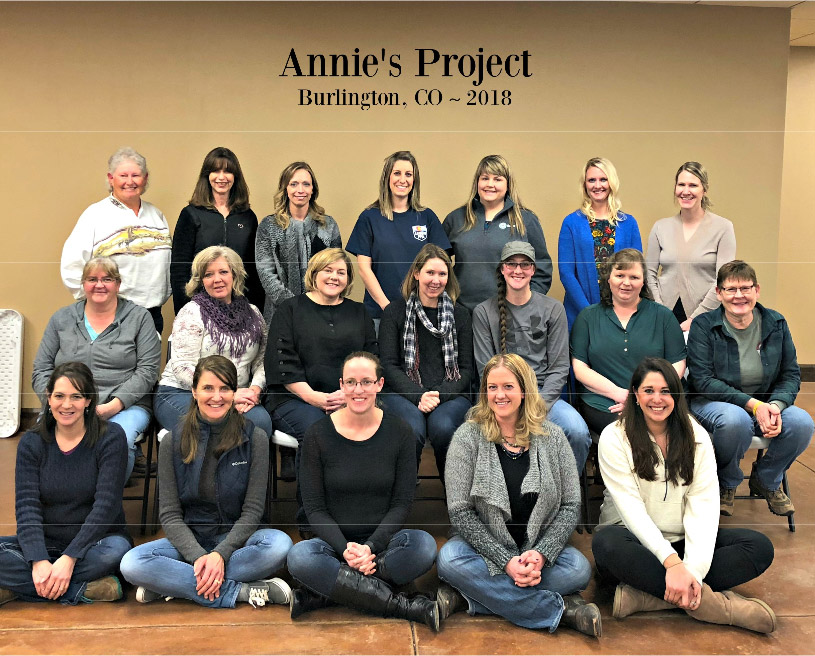 Farm Credit of Southern Colorado's mission is to provide innovative financial solutions to a diverse rural America one relationship at a time. The cooperative financial institution serves agriculture and rural communities through branches in Burlington, Colorado Springs, La Junta, Lamar, Limon and Monte Vista. For more information, visit www.aglending.com. Standing Back Row L to R: Cheryl Dobler, Dawn James, Alissa James, Kayle Loutzenhiser, Meghan Loutzenhiser, Samantha Raile, and Holli Frank Seated Middle Row L to R: Sharon Cross, Vanessa Warden, Margaret Jolly, Tawnya Schulte, Megan Hiss, Sherry Dreher, Sheryl Gramm Seated Front Row L to R: Angie Stone, Amy Johnson, Lucy Archuleta, Kelli Vaughn, Jasmine Jacobs Not pictured: Genevieve Cure, Colleen Simon